Judging
Even more rare are the occasions when an outspoken man like myself get the opportunity to judge. Well sometimes it happens after all - and judging "my" breed are real highlights. Not being an official judge I do some breed open shows and scroll down(!) to see what kind of judge this man is.
Örebro Cocker Club invited me in 91 and I had a superday. My BIS was an orange roan dog totaly dominating the showscene these years - NORD CH Westerner Forest Blaze, resBIS was a quality red Apelhöjdens Lucky Charm.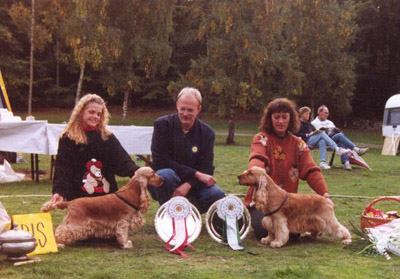 At Blekinge Cocker Club (92) BIS was a beautiful red bitch called Riverducks Hot Lips beating her own sire Line Sam Kalle.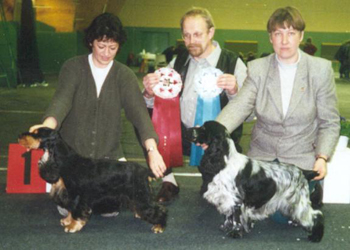 In febr 97 at Östergötlands Cocker Clubs Breed Open Show my choice for BIS was the black and tan bitch Camillos I'm Special, resBIS was the blue dog Shakimas Youngster From Heaven.
In sept 98 I had the honour and priviledge to judge at the East Anglian Cocker Spaniel Society's Breed Open Show. Unfortunately! Pam Walker had entered in I think 10 out of 20 classes. I happened to like her type and I think her lot won at least eight classes. So I suppose that was my first and last appearance as a judge in dear old England. My BIS was her Cardamine Lionheart and resBIS was a really cockery red bitch named Cardamine Candleberry. The Kettle sisters won Best Puppy In Show with Lujesa Inspiration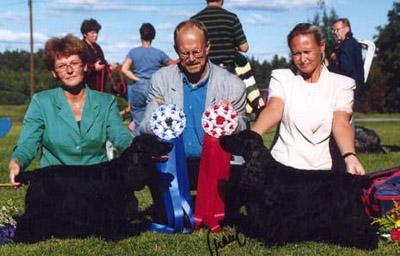 At Mälardalens Cocker Club (99) halfbrother and sister won everything. My BIS-winner was Manaca's Peeping Tom and resBIS was his half sister Manaca's Weeping Willow.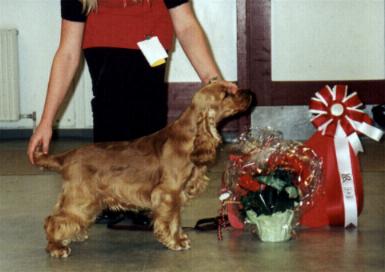 When I judged in Ålborg, Denmark, in November 99, the 7 months old golden bitch puppy Shavian Juliet (owned by Lotte Andreasen) won Best In Show.